How a northern community is becoming trauma-informed
Posted on
When Candice Kerkermeier hears from teachers that their students are acting out or struggling in school, she reminds them that there might be more than meets the eye – and it might have something to do with past traumas. Research shows that trauma can have a significant impact on brain development, physical and mental health, sexual behaviour, health care costs and life expectancy. 

Candice is the Mental Health Leader for Keewatin Patricia District School Board (KPDSB) in Kenora. She works with school administrators to implement the Board's mental health strategy in 21 schools. She notes that all staff from all departments can benefit from understanding the link between trauma and behaviour; in other words, being more trauma-informed.
"We are not asking our staff to become social workers or mental health therapists," she explains. "We are looking at a general awareness, empathy for those who have had a traumatic upbringing and an awareness of how to connect the students to the appropriate supports."
A trauma-informed approach is considerate of youth who are struggling with mental health issues and/or addictions since it creates a safe environment where people feel supported. Using a non-judgmental approach, it's a shift from "what is wrong with you" to, "tell me what happened to you/how can I support you", explains Kerkermeier.
This approach has been especially important in the justice sector, which was a focus for the Kenora-Rainy River Youth Justice Service Collaborative for the past four years. With support from CAMH's Provincial System Support Program (PSSP), the Collaborative worked to implement a screening tool across all service providers, developed a map of the services to help people navigate the intersection between justice and mental health and addiction systems, and created a protocol to help agencies work towards trauma-informed approaches.
Expanding the reach
That protocol, along with coaching and implementation support from the PSSP team, was a perfect fit for Candice and the school board.
"Everything fell into place, this was a clear priority and it aligned with work already being done within the board," Candice explains. "I met with PSSP's team and we started to talk about how the partnership and coaching support could help the board become more trauma-informed."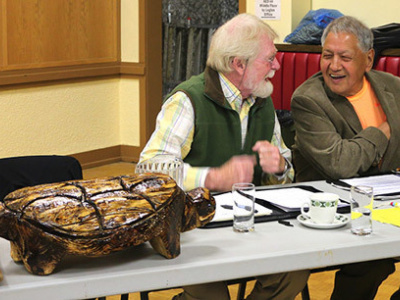 "It's a considerable process to become trauma-informed but in early conversations the community identified this as a priority," says Alison Warwick, a Regional Implementation Coach in PSSP's Thunder Bay office. "We are there to help them review their policies and practices, and create an implementation plan to start becoming more trauma-informed."
For Kerkermeier, the effort to train all school board staff was well worth it, made easier by the fact that the majority of the staff was requesting more knowledge in this area. She recently received the results of a survey looking at how the new changes have been going; 550 staff responded, a great response rate she attributes to staff's commitment to this issue.
The school board plans to continue with in-person training, developing webinars, and professional development on trauma with a lens to making it culturally appropriate for First Nation, Inuit and Métis peoples.
The shift towards trauma-informed care will take time, and while key sectors of the community have begun to make those changes, the goal is for everyone to become trauma-informed.
"An overall shift in perspective means everyone in the community needs to recognize the effects of trauma," says Alison Warwick. "This includes community leaders, not just service providers."
Share:
Back to News